Why Should a Six Sigma Green Belt Training Program be Two Weeks?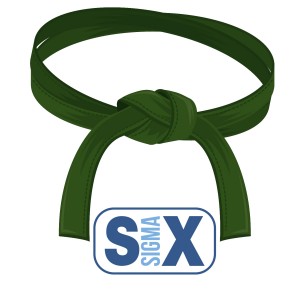 You may have noticed in your research that a lot of Six Sigma Green Belt Training programs last two weeks. But what is the significance of this number? Is it because two weeks is just the right amount of time in which you can become acquainted with Six Sigma? Is it because it allows you to follow a vigorous pace which drives fast learning? Or is it simply a random number representing nothing? Read on to find the answer, as today we discuss just what this two weeks means for your Six Sigma Green Belt programs.
Training = Two Weeks
Typical Green Belt Six Sigma training programs involve two weeks of intensive theoretical and practical study. A month's interval takes place between the two weeks, both of which can then lead to additional Black Belt training after completion. The reasoning behind the two weeks' duration (usually 4 to 5 training days per week) is that it allows trainers to break down their curriculum into easy to digest segments.
Click Here to Know More About Six Sigma Green Belt Training
What Does Green Belt Training Cover?
Six Sigma Green Belt training focuses on teaching error elimination to maximize customer satisfaction. Lean principles are also of keen interest in Green Belt programs. They provide the foundation for a lot of their real-world work. Lean Six Sigma Green Belt training consists of several key ideas that are essential to Lean-based Six Sigma project team work. And even Black Belt training, which takes significantly longer than Green Belt, relies on the same basic principles. As such, there's simply a lot of information to convey, too much for a single week.
What Can You do in Two Weeks?
Two weeks provides trainers an optimum amount of time to breakdown information for study. Key concepts, such as DMAIC and Root Cause Analysis (RCA), process improvement measures, continuous improvement culture, and so on, can have an entire day devoted to each. This ensures adequate coverage of all the relevant information, without leading to fatigue. Theoretical information is the foundation of Green Belt Six Sigma, but practical experience is just as essential. Practice projects take up a large part of the program, usually in the second week. Black Belt training involves coaching Green Belts to manage projects on their own and to lead teams. This experience is also essential to Green Belt learning and takes considerable time to see results.
Are Two Weeks Too Little?
The question might spring to mind, Is two weeks too short an amount of time to get through so much information? Is it simply not enough to cover all the big ideas? The fact is that Six Sigma Green Belt training is typically a combination of two massive improvement trends from both Lean and Six Sigma. An increased work pace comes from Lean principles, which meets with Six Sigma's aim to improve quality. Lean Six Sigma is fast-paced, and so is training. In the real world you will be thrown in at the deep end. One of the great things about Green Belt training is that it encourages your initiative. In just two weeks, Green Belt training provides enough know-how and experience to make you a capable Six Sigma professional.
At 6Sigma.us we are committed to helping people find solutions! We provide hands-on implementations of Lean and Six Sigma at our locations, at your workplace or Six Sigma Online Cources. Visit our Six Sigma schedule of classes and find a solution that meets your needs, or contact us and we will surely help you find the right fit.