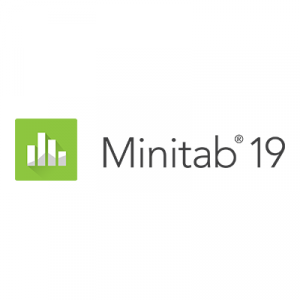 The world of Six Sigma relies on statistics and hard data to provide process improvement. Utilizing a series of tools, strategies, and data formats, trained Six Sigma professionals are able to identify problems within a process, determine how each problem can be rectified, implement the necessary changes, and then monitor the situation. However, they don't do this all in their heads–it is a specific methodology. Six Sigma professionals require specialized tools, such as our Minitab Essentials Training. If you are still wondering "What is Minitab?", this training will help you understand this statistical software package. If you have questions about Six Sigma using Minitab, this course will provide you with a general understanding, but you can learn more by purchasing the Six Sigma book.

Check out our New Book!  

Buy software now!
Don't focus on the Mechanics of Statistics… take Minitab Essentials Training
Every industry has software specific to it. Graphic designers use Adobe software products, administrators and office personnel use Excel or Word, and Six Sigma professionals use Minitab. It's an essential tool in process improvement, making it essential to any Six Sigma program. This is why we say don't learn statistics take Minitab Essentials Training or our Six Sigma Green Belt instead.

Register for Minitab Essentials
Our online, on demand Minitab Essentials training program is designed for anyone interested in creating meaningful charts and graphs to perform the basic data analysis that is required for Six Sigma. This course does not have any prerequisites. It is a great option for individuals who are already Six Sigma certified, but do not know how to use Minitab.
The Agenda includes five modules:
Minitab Basics
Inputting Data
Worksheet Manipulation
Creating Graphs
Basic Data Analysis
After completing the five modules, the student may work on a Certification by completing assigned activities designed to demonstrate their new found knowledge.
As mentioned above, there are no prerequisites for this course. Anyone interested in learning how to best utilize the Minitab software should take this course.
What You'll Get:
On demand, 24/7 access for 90 days of access to this professionally-narrated online 6Sigma.us training course
90 days of access to the electronic format of the training manual with the ability to print one  copy for your own use
Online comprehensive final exam
Upon completion of the training and passing the comprehensive final exam, you will receive a certificate of training completion
Please note there are no refunds once the program has been started or seven days after purchase
Learning Outcomes:
After completing the training, students will have the following skills and knowledge:
1. Minitab Basics
This lesson will demonstrate some basic actions and tools required to effectively use Minitab
Opening / Saving Projects
Opening / Saving Worksheets
Opening / Saving Graphs
Saving Session Window Output
Report Pad
Calculator
Toolbars
Help Topics
2. Inputting Data
This lesson will demonstrate how to input and manipulate data into a Minitab Worksheet. Techniques include:
Copy / Paste from other programs
Typing in Data
Using Patterned Data
Opening Other Formats
Changing Data Types
Code Data
Sort Data
Date/Time Formats
3. Worksheet Manipulation
This lesson will demonstrate how to manipulate worksheets in Minitab including:
Rearranging Columns
Stack / Unstack Columns
Transpose Columns
Split Worksheet
Subset Worksheet
Stack / Merge Worksheets
Set Descriptions for Columns and Worksheets
Conditional Formatting
4. Creating Graphs
This lesson will demonstrate how to Create, Edit, and Annotate the following Graphs:
Individual Value Plot
Dot Plot
Histogram
Box Plot
Interval Plot
Line Plot
Time Series Plot
Scatter Plot
Bar Chart
5. Basic Data Analysis
This module will demonstrate many Data Analysis functions within Minitab including:
Tests on Proportions
Tables / Chi-Square
ANOVA
2-Sample t Test
Paired t-Test
Variance Tests
Correlation
Simple Linear Regression
Sample Size
Online Program Requirements
A computer with online access to the Internet through a browser
Sound card and speakers
Display Settings of at least 1024 x 768 Screen Size
Adobe Acrobat Reader
Secure PDF Viewer from LockLizard (free)
Access to Microsoft Office 2000 or newer or equivalent
You are not to provide your login information to other users. Your online account is for your personal use.
Contact us if you have additional questions.
Reviews
4.7/5 based on 12 reviews
This course provided an introduction to Six Sigma and Lean along with use and application.

Thank you for a very educative and exciting course that had just the right level of challenge for me!

Very well organized and logically explained

This was an exceptional course!

Very informative and thorough.

this is great I learning to much and increase my vocabulary. regards Pedro Garcia

This was an exceptional course!

This was an informative course. I am satisified.
Save
Save
Save
Save
Save
Save
Save
Save