10 Things to Look for in World Class Green Belt Training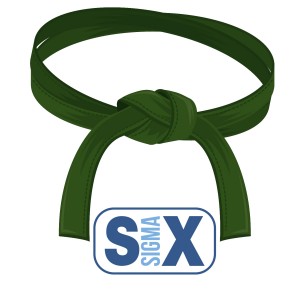 The ideal Six Sigma Green Belt training program should help participants hone their existing abilities. But what are the key things to look out for in Green Belt training? Which features represent world class training that can't be beaten? Today's guide offers a useful breakdown of the top 10 things to look for:
Soft skills. Teach key Green Belt traits such as perseverance, leadership, interpersonal skills, and initiative. These skills should be at the forefront of any great Green Belt training program.
Team-centric training. Some of the most effective, and preparatory, Green Belt training will allow candidates to work in practical scenarios as part of a team. Training can also be applied on the job, which has been proven to aid learning more effectively than prerequisite training.
Understanding hierarchy. Six Sigma has a distinct hierarchy that helps it function. A complete knowledge of the inter-hierarchical relationships (i.e. between Black Belt and Green Belt) can produce some of the strongest Green Belt candidates. World class training will instill this knowledge in them from the beginning.
Theoretical ideas. Theoretical concepts such as types of waste and process improvement are significant features of Six Sigma training. Much of the teaching is aimed at improving abilities in this area. High-quality Green Belt training will provide the foundation for the practical side of things.
Project management. Green Belts will be expected to manage both large and small projects on their own, as well as part of a team while implementing Six Sigma. Proper training will place particular emphasis on these skills.
Process improvement methods. Six Sigma isn't the only process improvement method out there which is beneficial to a Green Belt. In fact, there are several other useful methodologies that quality Green Belt training will teach, including: Lean, Kaizen, Design of Experiments, Process Excellence, and more.
DMAIC. Green Belts need to have a strong understanding of all Six Sigma tools and principles. Green Belt training needs to have a tight focus on key areas such as this. DMAIC is one of the most important tools within the Six Sigma methodology as, like Lean and Lean Six Sigma, it advocates a fact-centric decision-making process based on accurate data. Skills should include: defining problems, measuring data, analyzing processes, improving processes, and controlling the outcomes.
Root Cause Analysis. Another powerful Six Sigma tool, especially for Green Belts, who are on the frontline of Six Sigma process improvement. As such, their training should act as the weapon they need to tackle efficiency problems within production. Excellent training will teach them how to get to the bottom of issues through potent analysis.
Teaching the right attitude. One of the most important aspects of world class Green Belt training is teaching the right attitude. Fantastic Green Belts will have this attitude already, but it should be cultivated and maintained. Six Sigma is a collaborative strategy that requires effective teamwork, as well as dedicated individual action.
At 6Sigma.us we are committed to helping people find solutions! We provide hands-on implementations of Lean and Six Sigma at our locations, at your workplace or online. Visit our schedule of classes and find a solution that meets your needs, or contact us and we will surely help you find the right fit.