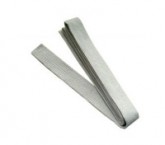 This overview is perfect for:
Leaders considering embarking on a Lean and/or Six Sigma strategy
Departments or organizations that have been charged with implementation but do not have a good understanding of Lean and/or Six Sigma
Managers concerned with the status quo and interested in investigating options for productivity improvement, performance enhancement, and organizational change
Six Sigma White Belt Online Features
$299 Special Pricing for the White Belt virtual classroom training
Ability to sign up at a later date for the Yellow, Green, and Black Belt online programs
The 6Sigma.us White Belt requires six hours of training and provides an overview of Lean and Six Sigma. With the White Belt, you will be able to begin your journey toward the professional competencies of the Yellow Belt, Green Belt, Black Belt, and Master Black Belt. After obtaining this first-level belt, you can become a qualified team member of a Green Belt or Black Belt project.
White Belt participants will be introduced to the tools and techniques used to:
Obtain a fundamental understanding of Lean and Six Sigma
Learn the structure of Six Sigma (DMAIC) and its roles
Apply the Define, Measure, Analyze, Improve, and Control (DMAIC) processes
Minimize waste and resources while increasing customer satisfaction
Course Time (Given by each time zone):
10 am – 4 pm (Eastern)
9 am – 3 pm (Central)
7 am – 1 pm (Pacific)

Sign up Now
View