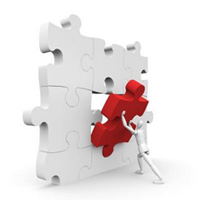 From process optimization to process engineering – Design for Six Sigma (DFSS)
Design for Six Sigma (DFSS) focuses on conducting Critical Parameter management (CPM) and addresses 2 "voices" – Voice of the Customer and Voice of the Process – which must be understood to minimize redesign and design rework. This is done to identify the few variables that dominate the development of baseline performance, the optimization of robust performance and the certification of capable performance.
DFSS training is ideal for engineers, designers, interested managers and technicians- all those who would lead or be members of a DFSS project team.
6Sigma.us offers several options:
DFSS Yellow Belt (1 day)
DFSS Green Belt (3 days)
DFSS Black Belt (3 days)
This material is available in an Adobe PDF that may be printed. To receive a copy, please send an email with "Green Belt" in the subject line to dfss@dmaic.us.
DFSS Yellow Belt Agenda (No prerequisites)
Applying the Lean Six Sigma mindset and methodologies to product, service and process design
Phase-Gate design structures, checklists and principles of concurrent development
Defining and chartering Design projects
Deploying the Voice of the Customer (VOC) through product, service and process design
Identifying risk in the design process
DFSS Green Belt Agenda (No prerequisites)
All Yellow Belt Topics, plus:
Management of design and process related risk
Gaining and understanding the Voice of the Customer
Deploying the Voice of the Customer through initial stages of Product Design
Tools and techniques for Benchmarking
Using a Design Scorecard to ensure success
Development of the Functional Mindset; Functional Mapping & Analysis
Concept Ideation: Ideal Final Result & the Morphological Matrix
Concept Generation and Controlled Convergence (CGCC)
Design for X (manufacturability, serviceability, etc.)
Piloting and Prototyping
Planning and Transitioning the design to production
DFSS Black Belt Agenda
Prerequisites: Six Sigma or DFSS Green Belt, experience in DOE
Advances understanding of customer needs through Kano Analysis
Enabling creativity through the Theory of Inventive Problem Solving
Effectively handling contradictions in the design process
Efficient handling of functional requirements
Using effective design principles to manage interfaces and keep the design simple
Using simulation to efficiently test the system design
Understanding and managing reliability and robustness in the design process
Advanced experimental techniques to enhance design robustness
Yellow Belt DFSS Training and Certification Dates
Green Belt DFSS Training and Certification Dates
If you have any questions or you would like to learn more, please feel free to contact one of our experts by clicking here.
Are you interested in self-paced online DFSS course?