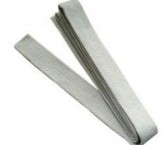 1 Day of Training
Cost of Training is $499
Includes Training Certification
Conducted by a Master Black Belt with real world experience
An Adobe PDF with the full Six Sigma White Belt training and certification agenda is available by email. To receive the PDF, please send an email titled "White Belt Brochure" to whitebelt@dmaic.us.
Our Six Sigma White Belt class is the first day of our Six Sigma Green Belt. The White Belt class provides an overview of Six Sigma concepts.
View