Six Sigma Syllabus – Green Belt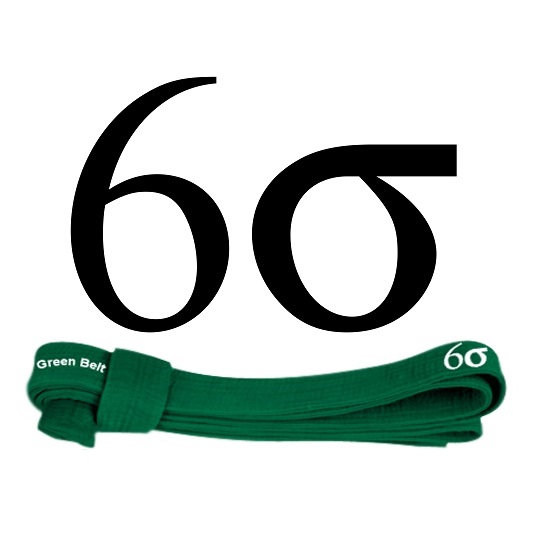 The Green Belt is an integral player in Six Sigma hierarchy, who shares responsibilities with belts above and below. If you want to make a serious career of Six Sigma, Green Belt certification will provide you the means to do so. In karate, a green belt signifies the growth of a seed as it sprouts upwards towards the sun. Karate green belts take a step up from orange, ready to strengthen and refine their skills with more challenging kata. Furthermore, in Six Sigma, the Green Belt represents your acquirement of a deeper understanding of Lean and Six Sigma methodologies.
The appropriate training is necessary if you wish to become a fully-fledged Six Sigma practitioner. Green Belts play a supporting role on a Six Sigma team, but they may also take on managerial duties if required. Green Belts occupy a flexible place in the Six Sigma hierarchy. They are responsible for everything from project management to analyzing and solving quality and process problems. Our course will prepare you for the real world. Following training, you will be able to apply Six Sigma principles to everyday work scenarios. Today, we take a look at our Green Belt syllabus and its contents.
Is Six Sigma Green Belt Training is Right for Me?
Our Green Belt program should suit anyone who wishes to expand their knowledge and grow with Six Sigma. As a Green Belt student, you are likely to have limited experience. We cover all the basics, however, some understanding of Six Sigma is always useful. Additionally, Yellow Belt students may wish to make the leap to Green Belt level by pursuing further training. We can offer employees from the same company the chance to complete training together. We find this promotes a flexible synergy-oriented environment in which all involved will benefit. If you wish to achieve a higher Belt level, then Six Sigma Green Belt training is essential to your development. Furthermore, if you wish to become a project leader or subject matter expert, Green Belt training is for you.
Click Here to know more about six sigma green belt
Course Contents
Six Sigma work requires active participation from Green Belts on a project team. Your training will build on previous training and teaches numerous responsibilities. These include project management techniques, organization and standardization skills, as well as quality management tools. Additionally, you will develop key skills for Six Sigma work. These include defining a Six Sigma project, using basic tools and software for project definition and process baseline. You will also learn how to perform data analysis and assess measurement system capabilities.
Defining a Six Sigma Project. You will learn to avoid common mistakes when defining your Six Sigma projects. These include making the scope too broad, considering too many Ys (outputs) for improvement. You will also learn to avoid having multiple goals and process owners across numerous departments.
Quality Management. Green Belt training deals partly with implementing and improving standards. During training, you will learn how to proliferate a quality management system, with appropriate procedures. Moreover, you will learn how to use Six Sigma to identify potential improvement opportunities. You will also develop your ability to identify worthy problems to tackle, as well as how to recognize 'just do it' situations.
Quality Tools. Our Green Belt course teaches basic quality tools and how to use them. Check sheets, Pareto charts, scatter plots, bar charts, pie charts, time series plots, histograms, and box plots.