Top 10 Reasons for Six Sigma White Belt Training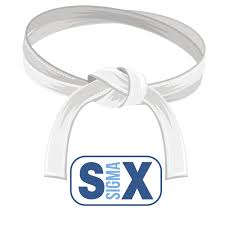 At some point in your career, you may decide that you want to change. Change can be a positive step towards achieving your career goals, depending on your move. Regardless if you want to change employers or move up the corporate ladder, you will need proof that you're ready for the challenges you face. If you're wanting to expand your career opportunities, consider enrolling in Six Sigma White Belt training. As the first step along the Six Sigma journey, White Belt training is perfect for those without prior knowledge of the methodologies and wanting change. Here are the top ten reasons why you should consider enrolling in our Six Sigma White Belt training course.
The First Top Five Reasons
One – it's the first goal you will accomplish along your Six Sigma journey. Many professionals who dream of leading projects and managing process improvements hold some level of Six Sigma certification. Like building block, you will grow from the foundations of White Belt training
Two – it's short. Our course only requires between 6 and 8 hours of course time. In our workshops, you will learn the fundamentals of Six Sigma and the general understanding of what you can expect from using them.

Enroll Now For Six Sigma White Belt Certification
Three – it's critical to your foundation. In our White Belt workshop, we cover the topics of Lean Six Sigma, positioning roles, and introduce variability. From these topics, you will build on greater, and more in-depth understanding of each proceeding certification level.
Four – you gain valuable certification. After achieving your White Belt certificate, you can join projects as team members or leaders, depending on their specific needs.
Five – you gain an upper hand on your competition. Typically, professionals seek Six Sigma certification to advance their careers. With your new certificate, you will have both the experience and knowledge to give you an upper hand over other applicants for the same role.
The Second Top Five Reasons
Six – you learn about DMAIC. There is almost nothing more crucial to the Six Sigma methodology than DMAIC. Professionals use this five-step process improvement method on a regular basis. With our training, you will learn what each step requires and how you can deliver it.
Seven – you can learn on your own time. If you do not have the time to commit to one of our workshops, we offer a self-paced option online. With this course, you can complete your Lean Six Sigma training on your own time, at your own pace.
Eight – you learn what roles are available to you and others. During your White Belt training, we will discuss the general structure of Six Sigma professionals and outline what placements you can expect to be in.
Nine – you become a valuable asset to your organization. Today, more and more employers expect their employees to have some level of Six Sigma certification. With your White Belt certificate, you meet the expectations of your current and future employers.
Ten – it's fun! At 6sigma, we want to create an atmosphere makes learning enjoyable. In our White Belt training course, we work hands-on with all of our students and create a fun environment for everyone.