What is Kaizen Philosophy?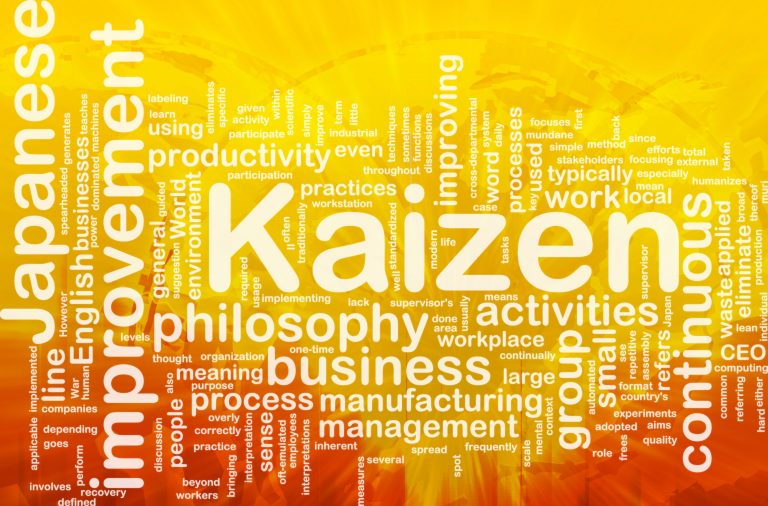 There are many different ways to turn into a more productive person. Most of the existing methods give you certain tools to help get certain aspects of your life under control. The problem with these small productivity methods is that they focus on small aspects of your life, and not the big picture. Luckily, Kaizen philosophy is seeking to change that norm and turn you into an overall more productive person.
Sign Up Kaizen Event
The name Kaizen roughly translated means "good change," and originated in Japan. It is a method that is meant to help you bring a blanket of an organization to your life that was otherwise missing. The best way to describe this method to someone that never heard of it would be "constant, continuous improvement." It brings together a whole new mindset that you can use to be successful at any job, on any project, and in virtually any situation in your life. This method helps you not only organize the way that you get things done, but the way that you and your team get things done, and even the way that your team gets things done when you are not around, impressive, right?
When you carefully examine the Kaizen philosophy you will notice that there are 6 different steps that are followed to ensure that you are constantly doing better. If you can get a handle and understand these 6 steps you will be able to make noticeable changes in your life.
The 6 steps to this Kaizen Philosophy are as follows:
Step 1: Standardize – The first thing you will need to do is come up with a process for what you are trying to do. A great example would be if you worked on home clean up team, what steps would you take to complete the job from start to finish? You have to remember, this process needs to be repeatable as well as organized.
Step 2: Measure – Next, you need to be able to measure your results. Back to the house cleaning job, measure how long it takes you now compared to last time. You could also measure completion time, customer satisfaction, and so on.
Step 3: Compare – Now you need to go back and measure your results against your requirements. This step will help you figure out if your method is working, or lacking something crucial. Find out if your method is saving you time, and accomplishing the goal that you set out to complete.
Step 4: Innovate – Once you are done with comparing, start looking at other ways to get things done –even if you are content with the first results. The odds are, the first way we pick to get things done is not always going to be the best. The important thing to remember about this step is it really helps you explore your options and find smarter, quicker, and more efficient routes to get things done.
Step 5: Standardize — Yes, now you must go back and create more repeatable processes for the things you are trying to get accomplished. It is important to keep remembering that these need to be measurable, and different from the first way you worked before.
Step 6: Repeat – Go back to step one and start the entire process all over again.
It might seem like a tiring process at first, but it will get you results. It is a mindset that will stick with you before long, and you will start constantly looking for new and inventive ways to improve. The first couple times you try to adopt the Kaizen philosophy you might struggle because we tend to avoid change. You should stick with it, though, not just to receive the results that you want, but to receive the results and happiness that you deserve.
Stop by and contact us at 6Sigma.us and find out how we can positively help you plan and change the culture and operations of your organization. We offer Kaizen Event Facilitation Green Belt and Black Belt training programs, as well as a Master Black Belt program.