Six Sigma Certification Levels Explained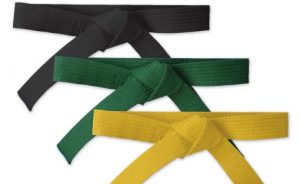 There's no doubt that gaining a Six Sigma certification is one of the best moves anyone can make for their career. Whether you work in logistic, financing, or manufacturing, everyone can benefit from the experiences and knowledge Six Sigma offers. However, knowing when and where to start can be tricky, especially for professionals looking to advance their careers or change industries. In Six Sigma, there is a natural rank to the certifications one can achieve. Each certification level entails various responsibilities, tasks, and rewards. Yet, not every level is suitable for everyone. Likewise, trying to assess where you should begin your Six Sigma certification journey can be overwhelming and unclear. In this article, we will look at each six sigma belt level, what is required for achieving it, and how it will benefit you!
Six Sigma White & Six Sigma Yellow Belts
The goal behind using Six Sigma methods in practice is to bring value to an organization. This is done by improving efficiency, reducing waste, and most importantly, decreasing the risk of production errors. While some certification providers offer White and Yellow Belt certificates, these do no offer the same level of knowledge as the top three.
Typically, White and Yellow Belt professionals work part-time under higher Six Sigmas. Their work includes data mining, carrying out functions given by managers, and completing daily tasks. While they may help increase the overall value of a process, they themselves will not directly create the innovation project managers seek. For individuals who are just beginning their Six Sigma belts journey, achieving a White or Yellow Belt is a great way to gain exposure to the methodology. Courses and training are usually shorter for these belts, cost less, and offer the basics of what Six Sigma really is.
Six Sigma Green Belts
The first certification level you will experience the greatest reward at is achieving a Green Belts. In more detail, Six Sigma Green Belt typically works part-time on Six Sigma projects. While they may work full-time on a complete business process, they will only devote 20-50% of their time to the project itself. These professionals are extremely valuable to project managers for a few reasons. First, Green Belts have a comprehensive understanding of Six Sigma, the methodology, and its tools. Likewise, they have expertise in functional knowledge and bringing improvements to a project. Their primary roles focus on helping team members collect and organize data for a Six Sigma project. This task is crucial and leads directly into proper data analysis.
From their classroom training, Green Belts understand how to perform statistical analysis and contribute these results effectively. Additionally, these professionals work cooperatively with each other and may even assist in training other employees on the methodology.
Six Sigma Black Belts
As a Six Sigma Black Belt, you will begin to experience practicing the methodology full time. After three years of Six Sigma experience and working on a handful of projects, you can become a Certified Black Belt. These professionals are the main project and team leaders and guide other employees towards bringing value to the process. As a result, Black Belts are naturally the first to mentor other Belts. This may include performing training sessions, classroom discussions, or other forms of mentorship. However, Black Belts will usually only mentor fellow employees, not competitors.
Most Black Belts, they will be able to lead their project teams adequately and efficiently. Understanding and practicing time management and decision-making well is what defines the best Six Sigma Black Belts. As the main project manager, these professionals must know how to encourage other employees to meet deadlines, improve efficiency, and increase overall value.
Next, Certified Black Belts understand thoroughly the tools available to them through their Six Sigma training. These tools include Root Cause Analysis, Value Stream Mapping, and Simulation Mapping. Likewise, they must be able to practice the methods of DMAIC, Lean, and overall Total Quality Management.
Furthermore, every professional with Black Belt certification can perform cross-functional management. Most business systems are rarely dependent on one sole process. As a Black Belt, you must understand how each process works with each other and how they might affect one another. Likewise, when managing projects that consist of multiple processes, you must be able to predict what improvements must be made and when to ensure the least resistance.
Six Sigma Master Black Belts
The final certification that Six Sigma professionals strive for is Six Sigma Master Black Belt. As the ultimate certification, Master Blacks Belts have the most thorough, comprehensive understanding of the methodology. They work hand in hand with upper management and executives, reporting to them the status of projects. Ideally, a Master Black Belts works like a liaison, relaying information between senior advisors and team operators.
Likewise, these professionals will carry out tasks, such as project management, training sessions, and mentorships. Their experience with working on Six Sigma projects outstands most others, making Master Black Belts ideal for promoting growth throughout processes.
In order to achieve Master Black Belt, you must have at least five years of experience as a Black Belt. Additionally, you must also complete over ten Six Sigma projects, and demonstrate how your contributions lead to the overall progress.
One key note about Six Sigma Master Black Belt certification is that it typically lasts for specific projects and time periods. Where other belts may last throughout a career, the title of 'Master Black Belt' is only assigned for specific circumstances. Because of this, most Master Black Belts will emphasize their experience as one rather than claiming to still be one.
Which Six Sigma Certification is Right For You?
Can you decide which Six Sigma certification is right for you? Whether you wish to advance the corporate ladder, or just want to know how to contribute more to your organization, Six Sigma certification is a step in the right direction! If you believe you know where you wish to start, the next step is to find the right training or certification course. With the right training and experience, you can begin practicing Six Sigma as a certified Belt.