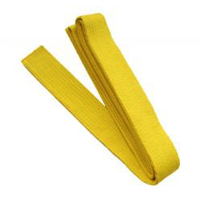 The Six Sigma Yellow Belt course from 6Sigma.us is a two-day course.  Class times are 8am – 4:30pm, Tuesdays and Wednesdays.
We recommend combining the Six Sigma White Belt + Six Sigma Yellow Belt for a full overview of Lean Six Sigma.  You can register for both during check out for a reduced rate. The day of White Belt training held the day before the two-day Yellow Belt training. White and Yellow Belt students will join our Green Belt students during the first week of Green Belt training. This specific training provides you with comprehension of the fundamental methodologies used for Six Sigma problem solving.

Find a Training Location
The Six Sigma Yellow Belt training course covers a few of the basic improvement procedures and their necessary metrics. In many organizations, people who have Yellow Belt training are also subject matter experts (SME).  These people can become a central team member on projects. White and Yellow Belt are not prerequisites for Green Belt, you may enroll directly in the Green Belt training course if your expectation is to lead projects.
Participants in this class will become familiar with the fundamental tools associated with the Six Sigma road map. The goal of the training is to give students the necessary tools required to become valuable contributors to an organization's larger goals and objectives.
The Six Sigma Yellow Belt Training gives you the following benefits:
Support from the experts at SixSigma.us
Opportunity to see a broader picture and higher understanding of daily tasks that convert into enhanced quality, decreased waste, and better cycle times
Six Sigma Yellow Belt graduates contribute to an organization by playing a supportive role in the organization's larger Six Sigma Process. These individuals will understand the concepts used to collect critical information on processes and support other Yellow Belts in gaining knowledge and experience in problem-solving processes. Everyone's understanding of the process is an integral part of the improvement methodology. Yellow Belt certified individuals have the job of identifying and controlling possible monetary loss in any area of the company and report information to Green Belts and Black Belts within the organization.
Six Sigma Yellow Belt classes cover the following information:
Process Variables Mapping
C&E Matrix
Failure Mode Effect Analysis (FMEA)
Waste Identification
Methods to Reduce Waste
Introduction to Statistics and Graphical Analysis
SixSigma.us is an IACET accredited provider. Global Six Sigma, dba as Six Sigma.us, has been approved by PMI® to issue PDUs for your courses. Those who complete the Six Sigma Yellow Belt training and necessary exams successfully will be qualified to obtain 1.6 CEU's and 16 PDU's respectively. (PMI and the PMI Registered Education Provider logo are registered marks of the Project Management Institute, Inc.)
To receive an Adobe PDF of information about Six Sigma Yellow Belt classes from 6sigma.us, please send an email with "Yellow Belt" in the subject line to yellowbelt@dmaic.us.
Save
Save
Save

Find a Training Location