How to Read an Affinity Diagram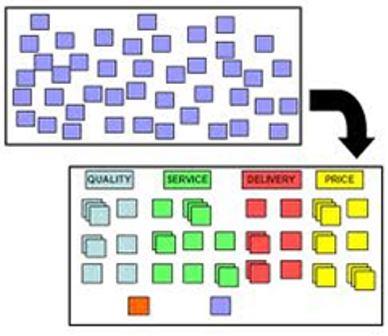 What is an Affinity Diagram?
An affinity diagram gathers large amounts of data and organizes it into meaningful groups, relationships, and patterns. Although grouping data together in respectable groups is common throughout business analysis, affinity diagrams became officially known in the 1960s. Since then, organizations, project teams, and corporations have used these diagrams for a number of reasons. To properly use an affinity diagram, you must follow its three-step process. First, you must record each idea or data set onto a note card or box. Next, you need to find related ideas or other data sets. Finally, you can sort your cards or boxes into specific groups using all ideas, topics, or data sets. This process is commonly followed for a variety of business analysis tasks. 
Learn More About Our Root Cause Analysis Training
When to Use an Affinity Diagram?
When to use an affinity diagram depends on several factors. However, project managers commonly use these diagrams in structured settings. Project managers can use these diagrams to brainstorm new ideas with team members and final solutions to common problems. Likewise, affinity diagrams are ideal for finding correlations between data and ideas that you otherwise would not have seen. Although you commonly use these diagrams in a physical form, i.e. note cards, and whiteboards, you can also make them with online tools. Programs, such as Windows Office platforms can easily organize and sort data for you without the need to write out things manually.
One kind trait for affinity diagrams is that they are almost exclusively for visual representation. Although these diagrams help structure, organize, and brainstorm for projects, they main objective is first to visualize what you known. By laying out all factors in a project, your team can easily see what areas need attention, what connections can be made, and what necessities there may be.
Tips for Reading an Affinity Diagram
As a Six Sigma professional, you may need to create or read from an affinity chart. While most affinity charts can be rather complex and highly detailed, this should not prevent you from accurately analyzing the data.
The first step towards accurately reading an affinity chart is to clearly label all ideas and data sets. Think, 'topic sentences', but for groups. When you clearly label your main objectives, it's easier to stay focused and on track with the project.
Next, record the connections that you make. Although affinity diagrams are visual tools, there may be underlining reasons for certain connections. As a project manager and Six Sigma Black Belt, you must correctly interpret the diagram after your team brainstorming session. By keeping track of comments, connections, and correlations made, it will be easier to make these adjustments to your project later.
Finally, revisit your diagram, and often. Over time, ideas you once thought were ideal for your project can change. For this, we advise you to have regular meetings with your project team to assess and review your affinity diagram. Taking a second look may prove to be effective in finding new, better solutions for your project.