Understanding Six Sigma Belts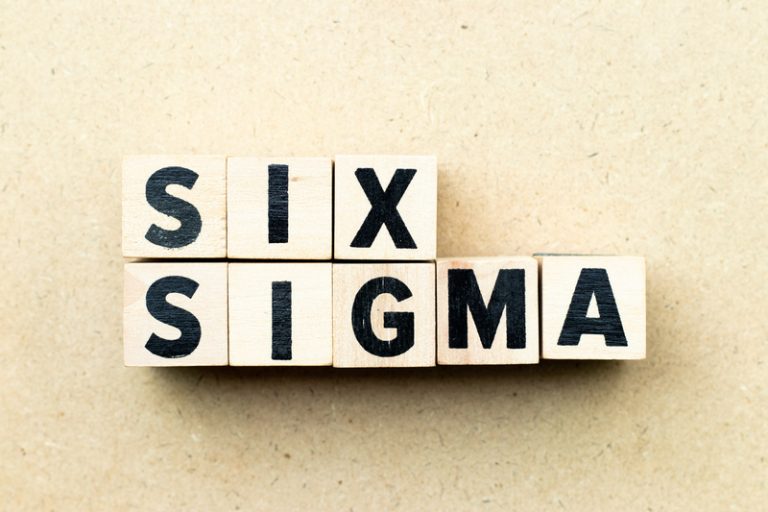 Organizations frequently aim to maximize resources to their fullest possibility and streamline processes to improve quality, performance, and efficiency. Since the inception of the Six Sigma methodology, many organizations have implemented and accomplished a disciplined, data-focused approach to increase process efficiency. The primary goal of Six Sigma is to streamline business processes by eliminating errors, variations, and wastes in a product or service.
Six Sigma Belts
Six Sigma uses process improvement, problem-solving tools, advanced analytics and statistics to improve business quality. While these techniques are important to the Six Sigma process, the success of a Six Sigma project ultimately relies on the people involved. If you're thinking about acquiring a Six Sigma professional certification and want to learn more about how Six Sigma works, the best place to start is by learning about Six Sigma's belt levels.
The belt levels in Six Sigma are similar to the belt rankings awarded in martial arts. Belts are titles awarded to practitioners based on their level of understanding, skills, experience, knowledge and training in Six Sigma principles. To understand how individuals strengthen and skills can be applied in a Six Sigma project, let's understand what each belt signifies.
Six Sigma White Belt
The beginner's belt — White Belt — is ideal for professionals who want to begin their Six Sigma journey by learning more about methodologies and their business impacts. White Belts range from front-line workers to corporate administrators. This training provides individuals with basic knowledge and working of Six Sigma methodologies, techniques and vocabularies.
White Belts assist problem-solving teams within the organization, while also helping instil Six Sigma principles and culture into the workplace, and encouraging other co-workers to practice the same. For example, a Six Sigma White Belt may lend an extra pair of hands and eyes to collect data and offer insight into how certain processes are working.
Six Sigma Yellow Belt
Yellow Belts have a basic understanding of Six Sigma fundamentals and common terminologies. They are not experts in Six Sigma, but they have been introduced to the domain and tools frequently used in the approach. They mostly practise Six Sigma on a part-time basis.
Six Sigma Yellow Belts work under a project leader who is Green Belt and above and are typically tasked with creating process, mapping and data gathering at the start of a project.
Six Sigma Green Belt
Green Belts are at the core of the Six Sigma project. Most of the work completed in any project is done by Green Belts. They typically dedicated 25%-50% of their time to processing the methodology. At this grade, Green Belts are recognised specialists in Six Sigma philosophies and principles.
Green Belts play a crucial role in identifying and implementing improvement processes throughout the organization by helping teams gather and analyze data. This helps minimize variation in order to produce high-quality products and services.
Successful Green Belts possess strong analytical skills and can communicate at all levels of an organization. This level of training is often applied to individuals working in a quality assurance environment or a mid-to-upper level management role and can help act as a stepping-stone to increased responsibilities.
Six Sigma Black Belt
Black Belts serve as business leaders and are responsible for managing multiple teams of White, Yellow and Green Belts. Black Belt practice Six Sigma full-time. Because of a higher learning and knowledge curve, Green Belt is a must qualification in order to climb up to Black Belt.
Black Belts possess mastery over process improvement and statistical analysis techniques. They are strong skill-set individuals who act as effective leaders and mentor teams. They also teach Six Sigma principles and fundamentals to teams when needed. Consistency is the key when it comes to Black Belt roles, as time management reflects good decision making and ensures project teams stay on task and meet deadlines.
While requirements can more meticulous for a Black Belt, the certification prepares individuals to become Six Sigma experts and leaves them just one step away from achieving the highest of all Six Sigma belts.
Six Sigma Master Black Belt
The title — "Master", indicates an individual has completed extensive training, testing and has mastered all Six Sigma concepts and practices the craft with exceptional discipline, skill and focus. Master Black Belts serve as mentors to Black and Green Belts as well as other teams. They are often tasked with communicating with senior executives and identifying potential Six Sigma projects.
Master Black Belts serve as an internal consultant for multiple teams and help them overcome technical impediments and answer procedural questions. This allows them to see the bigger picture of the organization's quality improvement effort, thus enabling them to understand and help influence the organization's Six Sigma efforts.
The strength of a quality improvement team lies in understanding Six Sigma concepts, skills and confidence. Master Black Belts have the interpersonal skill necessary to identify and help team members recognize areas for improvement. Excellent communication skills are necessary to provide team members with the advice and counsel they need to enhance their performance, and Black Belts make that happen.
Summary
Six Sigma often uses tools and data-driven determinations to solve errors/problems, but project accomplishment is defined by the people who manage and carry them out. Understanding the responsibilities and requirements of each Six Sigma belt level can simplify the roles of each stage and help determine which belt is right for you.
So, what's the wait for? SixSigma.us has all the modules you've been looking for! With our multiple course options, you are free to join in whichever medium you want to pursue your Six Sigma journey. Led by Master Black Belts, our courses and training are recognized worldwide and are renowned to bring excellence.