The Champion: Key To Six Sigma Team Success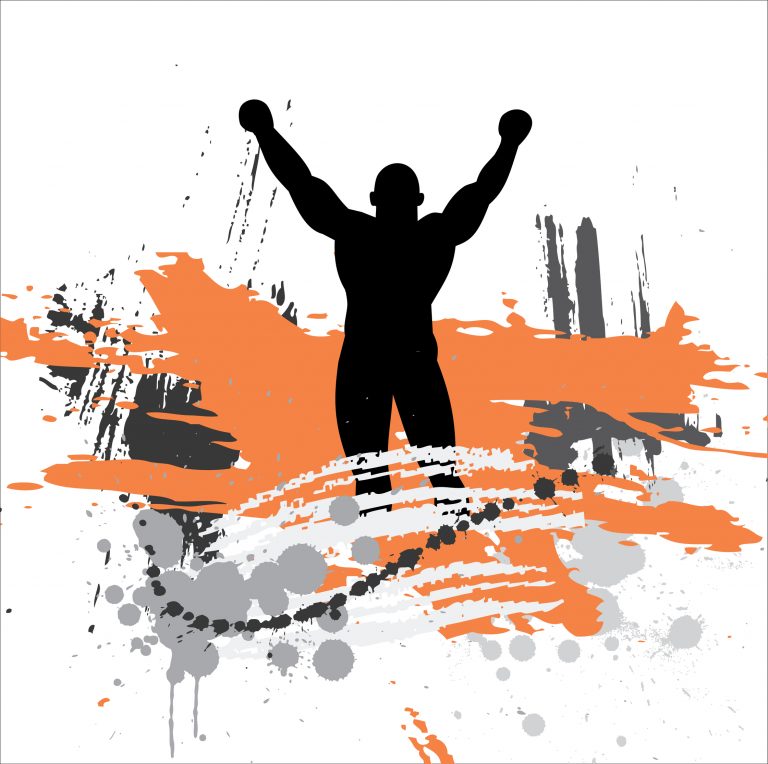 Among all of the Six Sigma roles and the people who fill them, perhaps none is more critical to the success of a project than the Champion. He or she carries tremendous responsibility at every stage of a Six Sigma project, from selecting and scoping projects to shepherding projects and teams through to completion.
Definition of Champion: There are two types of Six Sigma Champion – Deployment Champion and Project Champion. A Deployment Champion typically works at a division or organizational level, guiding and promoting Six Sigma deployment across whatever portion of the organization is required. He or she helps to align Six Sigma deployment with company or division objectives, ensures all necessary training is in place, and usually selects the Project Champions.
A Project Champion has a direct, hands-on role in project selection, team selection, and all aspects of project implementation from start to finish. He or she works closely with the project team to remove barriers, obtain resources, drive results and ensure that process improvements are sustained over time.
For the balance of this article, the word "Champion" will refer to a Project Champion.
Why is the Champion so critical to team success? Without a trained, effective Champion, a project team is very likely to fail. The Six Sigma methodology is inherently intense and detail-oriented, which frequently places team members in positions where they are challenging or conflicting with process owners as well as managers at higher levels of the organization. The Champion acts as a buffer in these situations, allowing the team member to focus on the problem being addressed.
In addition to this vital "liaison" role, the Champion is also critical to a team's ability to function. Whether it's obtaining resources, overcoming obstacles, or simply keeping the team motivated and focused, a Champion serves in whatever capacity is needed to ensure that the team can keep working smoothly.
Think of the Champion as a combination of warrior, diplomat, coach, cheerleader, and chief proponent of Six Sigma projects. All of these roles are critical to team success at various points in a Six Sigma project, and the Champion's job is to fill them in such a way that the project team never has to lose it's focus on solving the problem at hand.
The Champion's responsibilities: One basic definition of the Champion's responsibilities goes something like this:
• Obtains resources for training
• Obtains resources for projects
• Participates in tollgate reviews
• Interface between project team and senior management
Each of these items is indeed part of a Champion's responsibilities, but they do not begin to capture the depth and complexity of what a Champion really does.
What does it take to become a Champion? A successful Champion has a strong combination of leadership skills, personality characteristics and formal Six Sigma training. You'll notice that we listed leadership skills and personality characteristics ahead of Six Sigma training, and we did that for a reason.
It takes a person with very specific traits and behaviors to be a good Champion, and they are things that training cannot easily instill.
The best Champions share the following characteristics:
• Tenacity
• Enthusiasm
• Diplomacy
• Technical aptitude
• Financial aptitude
• Interpersonal skills
• Passion for Six Sigma
• Patience
• Determination
• Persuasive
• Affinity for change
• Self-confident
• Assertive
• Self-starter
• Self-reliant
• Dedication
Needless to say, finding someone with all or even most of these characteristics is not always easy. Once an organization finds the right candidate, everything should be done to encourage and support his or her success.
The training a Champion receives will vary somewhat depending on the organization's Six Sigma experience and program.
In general, though, a Champion will be trained in the following areas:
• Six Sigma methodology
• Six Sigma tools
• Six Sigma implementation strategies
• Project selection
• Project prioritization
• Implementation of results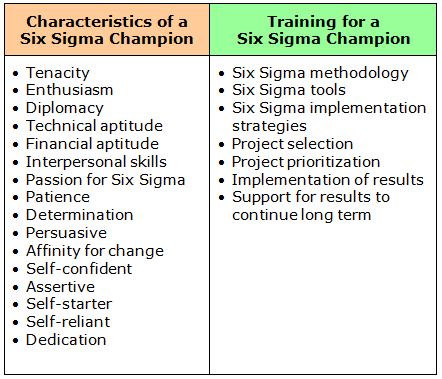 It is not unusual for Champions to have previous experience as Black Belts, but that is not strictly necessary. Black Belts are the subject matter experts while Champions are the coach/liaison/motivator that keeps a team in motion and barriers out of the way. He or she must have a firm grasp of Six Sigma principles and tools, but does not have to have the same detailed knowledge of a Black Belt.
You can go to https://www.6Sigma.us/six-sigma-training.php to learn more about our training solutions.