A Brief Intro to the Kano Model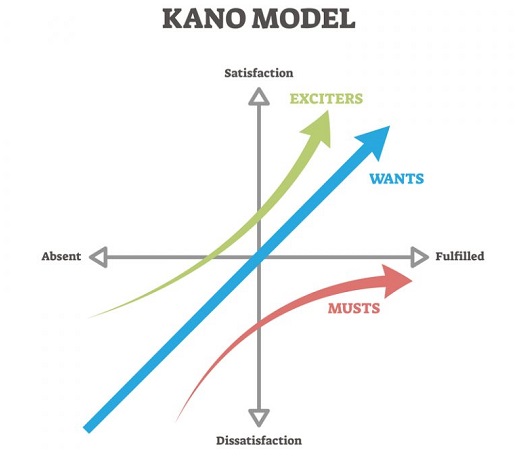 There are many tools that Lean Six Sigma professionals can use for process improvement. You have probably heard of Kaizen, Kanban and Ishikawa, but have you heard of the Kano Model? It helps organizations prioritize customer satisfaction during product development to produce more value for the customer.
What is the Kano Model?
Simply put, the Kano Model is a tool that analyzes the key features of a product or service and how much they impact customer satisfaction. This way, resources can be channeled towards those key features that will increase customer satisfaction. 
The creator of the Kano Model is Noriaki Kano, who introduced it to the world in 1984. He was a quality management expert from the University of Tokyo. Essentially, it is a model for delivering value that not only meets but exceeds the customer's expectations.
The 5 categories of the Kano Model
When using the Kano Model to create or improve a product or service, the key features are categorized in five ways. By categorizing them this way, the development team can figure out which features to include and which ones to exclude.
1. Basic (mandatory or obligatory)
Features that fall into this category are the ones customers expect the product or service to have at all times. Essentially, if the product or service doesn't have them, it will automatically lead to complete customer dissatisfaction. These features aren't here to delight or impress customers but are critical nonetheless – they need to be achieved and the customer need not even speak about them.
2. Performance (one-dimensional)
The features can be considered to be the add-ons – extensions to the basic features that customers speak of and want organizations to listen to and implement. They aren't deal-breakers if not achieved, meaning they cause somewhat but not complete dissatisfaction. 
However, they will greatly increase the level of enjoyment of the product when they are achieved. They will even give your product or service a slight competitive edge over the others.
3. Excitement (attractive)
These are the features that make the product or service more attractive to your customers. If they aren't achieved, no dissatisfaction will be experienced by the customer. The reason they exist is to further give you an edge over the competition. They make your product more distinguishable in the customer's eyes but are not spoken off by the customer.
4. Indifferent
These features neither add or subtract anything in terms of customer satisfaction with their presence or absence. In fact, it can be hard for the customer to tell if the features satisfy them or not.
5. Reverse
When these features are present, the customer will experience complete dissatisfaction. It is crucial to leave these features out or else people will not buy your product or service and may even seek out your competitors. Also, their absence does not cause any satisfaction.
Conclusion
With the Kano Model, organizations can focus on increasing customer satisfaction. This will ensure that all products and services they offer have features that bring value to their customers. As you can see, this is an extremely useful tool, especially when the categorization is done well.
For more information on our other lean six sigma certification courses and online six sigma services, please contact us.