Know How To Pick A Right Project for DMAIC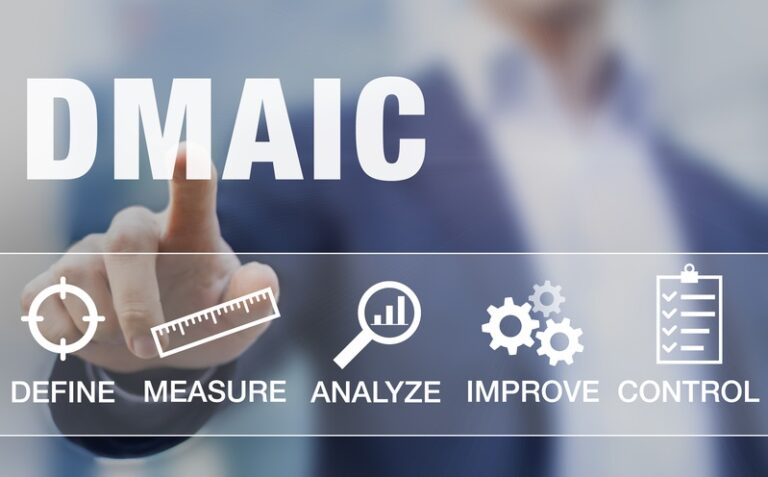 DMAIC methodology is one of the most widely used concepts to improve a process or function. It has many uses and applications. It can be used to create business strategies, work-flow, and most importantly conduct and implement Six Sigma projects. If you want to learn about what DMAIC is, how it works, read: DMAIC: Approach to Continuous Improvement.
Now, let's discuss how to choose good projects for DMAIC and Six Sigma. It's one thing to pick a topic and dissect it. But it's a completely different aspect whether it benefits your organization or the process. But just how do you know which topic will become a good project?
Identify Problem(s)
DMAIC solves a problem revolving around a process, waste, or quality issues within an organization. Using this model will make the process more reliable and efficient. Therefore, identifying problems, issues, defects, delays, lack of strategy, inefficiencies, etc. is the first thing that you should identify.
These areas of concern become the base for your project's "problem statement". This is the Define phase of the DMAIC methodology. Also, it is the issue that you will address and fix if it is a Six Sigma or Lean Six Sigma project.
Filtering The Voice From The Noise
Not every problem requires the DMAIC methodology and its application. Why, you ask? Because most of the times, the issue and its effective solution are already known. Sometimes the issue is complex (it has a lot of other parts, or it needs a complete redesign, etc.) which negates the need for DMAIC.
So, before you head on with your project, it's important to first determine that it meets the DMAIC criteria. Mentioned below is an exhaustive list that you can use to assess the sustainability of your DMAIC project.
Impact on Customer

: We know that customer is king, and the market is the best judge of a product/service. You should ask yourself if your project will have a positive impact on customer satisfaction and company growth. So, it's always a good practice to hear the voice of the customer, feedback and input, when creating your problem statement.
Problem Statement

: It is the issue you're trying to fix. It needs to be well-defined and should not contain any unspecified elements or space. Avoid making the big "Y" a measure of defect(s) by being precise and centered on the issue. The defect metrics should be operational in nature, like cycle time, error rates, rework rates, first-time call handling percentage, etc., which affects the big "Y".
Clarity of solution

: There should be clarity regarding your issue. Is it known or has it been investigated before? If there is a known solution, then there is no need to use the DMAIC process. No matter the solutions and innovative fixes present, it is worth identifying the root causes. This clears the room from any risk related to using available solutions.
Benefits

: You need to effectively gauge the value of your project, i.e., decode its benefits both qualitatively and quantitatively. Cost-benefit analysis and cash-flow analysis can determine if your project will benefit your organization. This will have a huge impact on the urgency and importance of your project. Also, include soft benefits like customer satisfaction, profitability, market reputation, increased market share, etc.
Process Stability

: The process needs to be stable before you can begin working on it, and apply the DMAIC model. This also holds for a new process that has not attained a desired performance level. If you go ahead, then the solution will have a different result than expected. Remember that "stable" does not always mean that the process is performing as expected or desired. The process could be due for an update or redesign, etc. Stability is important as it helps us to better assess the process's impact due to improvements made. Thus, precisely removing the noise from the process, and getting the real picture!
Sponsorship

: This is a major factor that creates a make-or-break situation for your Six Sigma or Lean Six Sigma project. Having strong support or sponsorship for the project from someone in higher management is of paramount importance. This person can be your project champion, who has sway and hold over the organization and its resources. This is a prerequisite before you start your project as resource planning and allocation always takes precedence.
Alignment of Project

: This is an important criterion that often is repressed. You need to ask yourself whether your project aligns with your organization's corporate strategy, aim, and mission. If no, then your project holds no sense of urgency and is subjected to being quashed. If approved, then the chances of receiving adequate support and resources fall exponentially.
Process Redesign

: As mentioned before, not every issue requires the DMAIC model. If the process under investigation requires structural or design changes, then it questions the feasibility of the DMAIC approach.
Find below some more pointers to have a clear and detailed DMAIC project:
Availability of Data

: This is one of the most important criteria before starting to put your project into existence. You need to identify an issue that has relevant data available. If there is not much data available, gauge if the current knowledge sufficient for a process improvement study? In rare cases, you might have complete data available. But it is important to have key data that saves valuable time, effort, and resources. If you have that and other data within reach, your project is a go!
Impact on Quality of Services

: This again forms the crux of your project selection criteria. If successful, will your project impact the service quality? Will it enhance the overall quality for the end-user, i.e., customers? The change in process should bring satisfaction and benefits to customers. But not at the cost of making the process complex or inefficient. Because we have to uphold the entire purpose of Lean Six Sigma. Thus, make sure that you identify something that benefits both the organization and the customer.
Project Timeline

: It is always a good plan to have a schedule for each DMAIC project that you plan to undertake. Which organization would wait years for a project to complete, that would increase their efficiency and effectiveness? So, you need to have a strict timeline for every phase, right from identifying the problem to implementing control. Six months has been a standard time duration for any Six Sigma project, for DMAIC it could be less. This varies depending upon the size and range of your project. If your project extends beyond six months, then it eliminates the viability of your DMAIC project.
Implementation and its Probability

: You need to keep in mind that your project is subject to implementation, only if it receives acceptance from concerned department or authorities. Your project should not affect any other process or create any organizational resistance. The implementation probability is also influenced by other factors, like competing initiatives, significant organizational changes, or changes in strategic objectives.
Investment

: Your project should have a cost-effective investment approach. If the project requires large amounts of capital, then it diminishes the idea of a viable and successful Six Sigma or a DMAIC project. Your project can have large investment requirements if it brings a greater amount of benefit to your organization than you anticipated. But then again, it is subjective and happens in rare cases.
Team Availability

: You know you're going to need a team, right? Thus, it is imperative that you have accounted for the time key members have for your project. This will help you plan daily tasks, meetings, and distribute work accordingly. If you're undertaking a Six Sigma or Lean Six Sigma project, you will essentially need dedicated Green Belt and Black Belt personnel. This will give your project a diverse and skilled set of eyes and perceptions.
Controllability of Inputs

: This step emerges after data collection regarding the process has started. Although every piece of data is important, you have to assess which data inputs are sufficient (which ones contribute the most to affecting your 'Y'). Also, the data inputs selected should be measurable and controllable. Control is important as without it, the process will function the same way, and if it isn't measurable, you will not have enough data to understand the root cause.
Organize a Project Selection Workshop
When you find problems with processes in your organization, the next step is to discuss the projects with your team. Arrange workshop(s) headed by the Champion, Black Belts, and Green Belts.
Discuss the DMAIC projects with the team and assess them with the key selection criteria as mentioned. This will help you understand the projects in the order of support received by the administration and executives. Thus, it allows you to prioritize projects in a manner of decreasing importance to the organization.
This will keep the team and the management apprised of all the developments and project undertakings. This will ensure that your project goes as planned and brings benefits to the organization and its customers.
Leverage Project Selection Tools
This step is optional and subjected to personal discretion. Using these tools will enable you to find best projects that are viable and utilize fewer resources, providing spectacular results.
You can use many tools, like:
Structure Conduct Performance (S C P)

The S-C-P is a top-down approach that determines the effectiveness of a project. The structure aspect measures the economic value, opportunity cost, etc. Conduct focuses on how to achieve maximum value. Performance takes into account the potential of project success and its impact on the overall process and organization's overall performance.

SWOT (Strength, Weakness, Opportunities, and Threats) Analysis

SWOT analysis is one of the most widely used tools for a practical assessment of your project(s). A SWOT analysis covers all the aspects of a project, despite being a simple thought process.

Uniqueness, competencies, and available resources enable us to measure a project's strengths. Weaknesses are the irrational parts that are tough to achieve in your project. Opportunities measure the technical and economic trends that can produce higher than expected returns and value. Threats are the barriers that create a resistance for a successful project (management support, buy-in, etc.).
You can also use other tools like the 5W2H, etc. to rule out inconsistencies, and find project(s) that meets all the expectations and brings the most benefit.
Conclusion
These criteria and methods also apply to selecting a good Six Sigma or Lean Six Sigma project. Due to its flexibility and benefits, the DMAIC model is an integral part of Six Sigma projects. Thus, make sure to use the right methodology and application to get the maximum benefit.
The possibilities, and applications of the DMAIC approach varies and changes from issue to issue, and process to process. But at the core its concept remains the same, and applies to any improvement problem you're addressing.