All About FMEA (Failure Mode and Effects Analysis)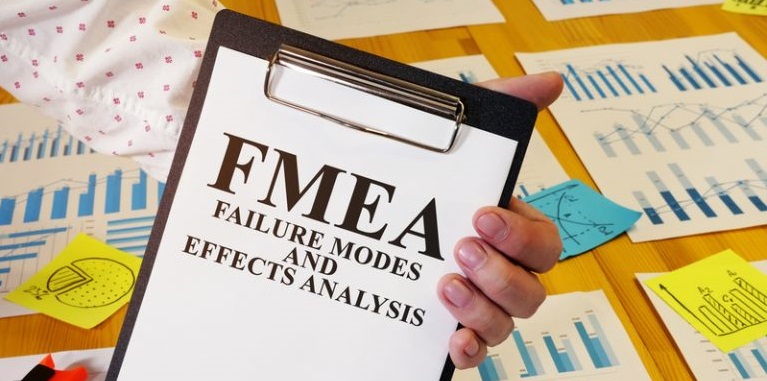 Six Sigma is all about eliminating errors and defects that derails the customer's experience. And, this is where FMEA comes into the picture, helping predict possible failures that will impact customer experience. 
Majorly, FMEA is implemented during the 'Analyze' phase of the Six Sigma DMAIC cycle. Check out our blog on DMAIC and its modules.
It helps project teams to identify product features and process tasks that are prone to failure. With data analysis and reports, FMEA provides project teams with enhanced product quality and reduces errors by modifying the existing processes.
Project teams apply FMEA in a series of steps:
Compile a failure list for each and every step.

Measure failure impacts.

Determine failure rates.

Establish probability of discovering errors.
Applications for Failure Mode and Effects Analysis
FEMA can be applied either on processes on a product, thus making the technique a flexible one in Six Sigma methodologies. Common uses of FMEA in the environment include:
Designing new processes

Reworking on existing processes

Building new environment for existing processes

Proactively following up on problem-solving

Determining preliminary processes

Defining and Designing the system and product functionality
FMEAs Modules
This unique FMEA focuses on the potential failure cause that might occur when a customer is operating on a product. Here, the study is done on the effect of failure caused on a system and regulatory compliance.
This FMEA is used to analyze a compilation of subsystems. It focuses on integrations, interactions and interfaces.
This FMEA is used to assess and increase the reliability of machinery. The module leads to incorporate prevention measures, automated fail-safe shutdown techniques and reduce both planned and unplanned downtimes.
This FMEA module studies the programming logic that goes into generating reports or control associate processes.
This FMEA is concerned and conducted with transactions. Since the transaction is considered a process, the FMEA technique is utilized heavily in this field.
When to apply FMEA?
FMEA is a necessary methodology for situations related to services, products and processes. The situations can be new or being adapted or redesigned for multiple purposes. It is worth undertaking FMEA periodically through the life of the process, product or service to ensure it is effective.
FMEA should be used:
When a module is being designed or redesigned following a quality function development.

When an existing module is being applied in a new eco-system.

Before the development of control plans for a new or modified process.

When planning improvement goals for an existing module.

When assessing a failure in an existing module.

To periodically assess a module.
How to create an FMEA
Review the process: Map the entire process, capturing every activity.

Identify failure modules: Brainstorm all the potential failures/errors for each process.

List the cause of failure: For every failed module, list its cause on the output of the process step.

Assign severity score: Rank each failure module to show how severe it was on a scale of 1 to 10.

Assign each module an occurrence score: Rank each failure module as to how often it will occur on a scale of 1 to 10.

Assign each item a detection score: Rank each failure mode as to how easy the errors can be detected by the oncoming customer in the process on a scale of 1 to 10.

Calculate RPN score: For each failure mode, give RPN score. This will allow you to focus on the highest risk score module first.

Develop an action plan: For each high scoring RPN, note who is doing what when close to eliminating the failure modes.

Recalculate new RPNs: Once the action has been completed, recalculate the new RPN numbers. Repeat this process if further action is needed. (in case the RPN score is too high)
Summary
FEMA is a priority list that needs to be taken into account to improve a business process. Implementing the FMEA methodology helps project teams identify the most likely source of failures. Seasoned Six Sigma project teams know that detection, severity and occurrence of defects, impacts heavily on customer experience. Thus, with FMEA, the potential defects can be identified easily and can be weeded out before they come to fruition.
Make FMEA at your project's core today with our Lean Six Sigma and DMAIC courses. With extensive and detailed training on FMEA and other methodologies, we deliver some of the most influential and world-renowned curricula.
Also, SixSigma.us is known across the States as we have worked with a number of high-profile clientele, helping them understand and making them Six Sigma certified.