5s in Six Sigma Is Simplicity Without Waste
The 5S tool of Six Sigma is genius at removing waste and simplifying any process. This infographic on 5S brilliantly explains how waste affects the workspace. Waste can affect motivation, health, finances, and most importantly, your time.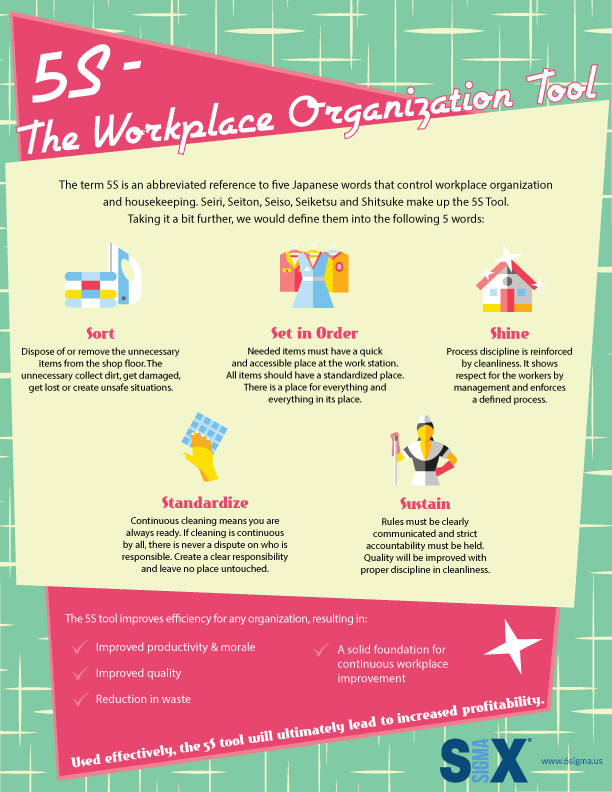 When you remove items that you do not need, this opens up space to make your job easier. The clutter is unhealthy, it collects dirt, you can trip over it, but most of all it prevents you from fully concentrating on the task at hand.
Prioritize your workspace — a place for everything and everything must have a place. Arrange work utensils in order so your focus goes directly to the task at hand.
There should always be a specific way to do a task, completely tested and thought out, no variations at all. There are numerous ways of doing a process or task, but there is truly only one right way, that is efficient. This is why DMAIC is so important, because there isn't any guessing or assuming.
Keep up what you have worked hard to achieve. This can only be done by continuously keeping everything clean and updated, so that you are always ready to jump in at a moment's notice.
Maintain the workspace spick and span. This shows your pride in your work, and reaffirms that the process is working.
Again, the magic of this tool is in its simplicity. For information on our courses or services, please visit the 6sigma.us website.