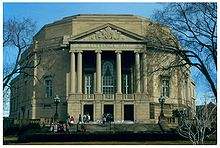 For professionals in Cleveland, Ohio, finding the right means to further your career is incredibly important. You'll find a wide range of education, training and certification options available, but few can compare with Six Sigma Training in Cleveland. This globally accepted process improvement solution is an ideal option for almost any professional.
What Is Six Sigma?
Six Sigma is a method of process improvement. It first gained ground in the 1980s when it was developed at IBM. In the beginning, it was really only used in manufacturing, but it took very little time for it to spread to other industries. Today, you'll find Six Sigma at work in every industry, and at almost every level within businesses and organizations. There doesn't need to be a product involved – Six Sigma principles can be applied to any process.
Currently, there is no training schedule available for Cleveland. However, we do have ongoing training in nearby locations. Check out available training in the nearby location
Where Is Six Sigma Used in Cleveland?
Given the widespread adoption of Six Sigma throughout all industries, it's natural that many companies and organizations in Cleveland have started adopting it. The following are just a few of those:
PNC/NCC Bank Training
Pubco Corporation
Riverside
Cleveland Clinic
Cleveland Metroparks
Why Consider Six Sigma Training in Cleveland?
Why should you consider going through Six Sigma training? Why might your employer sponsor your training on their own accord? There are many different reasons, but the most important is the fact that with knowledge and understanding of the principles taught in Six Sigma courses, you'll be able to provide the company with significant benefits, including reduced costs, better efficiency, better productivity and more. With those abilities on your side, you'll be able to move up in the ranks.
What Courses Should You Take?
Six Sigma certification in Cleveland is available through several different courses, but they're not all the same:
Six Sigma White Belt Programs – The lowest tier of training is the white belt introductory level. This course is ideal for those who need a working understanding of Six Sigma principles and techniques.
Six Sigma Yellow Belt Programs – The second tier is the yellow belt program, which is ideal for professionals, as well as project team support members.
Six Sigma Green Belt Programs – The third tier of training is the best fit for project team members and team leaders.
Six Sigma Black Belt Programs – If you'll be managing projects, you'll need a black belt Six Sigma certification in Cleveland.
Six Sigma Master Black Belt Programs – Upper management and executives should have master black belt training.
With the right training program, you will find you have many more options with your current employer. Sign up for the Six Sigma Cleveland Program.
Live Classroom Training
Onsite Classroom Training
Online Self Paced
Online Instructor Led
Blended Training