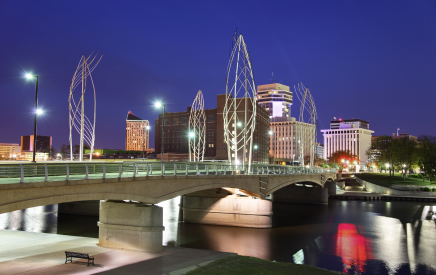 Often, the choice to get ahead in your career comes down to staying with your current employer or finding another job. Increasingly, staying with your current organization is the most common option. There are myriad reasons for this, including the fact that with ongoing training and Six Sigma certification, Wichita professionals can move up the ranks and secure promotions. What should you know about Six Sigma and how certification can benefit your career?
Already in Demand
Currently there is no training schedule available for Wichita. However, we do have ongoing training in nearby locations. Check out available training in nearby location
Perhaps the most telling point about Six Sigma certification in Wichita is the fact that most companies are already familiar with the need, and even sponsor training for their employees. Some of the companies currently pursuing Six Sigma certification for their employees include the following:
Cox Communications
ICT Technical Services
Koch Business Solutions, LP
Operational Excellence Consultancy, LLC
TMX Aerospace
Tranter, Inc.
Each of these firms has invested in Six Sigma certification for Wichita employees, ensuring that their organizations are able to benefit from process improvement.
How It Helps Improve Your Organization
The reason that so many employers are sponsoring training for their employees through Six Sigma courses is simple – they reap substantial benefits. Organizations benefit greatly with graduates of all belt courses, including introductory classes. It really only requires an introduction to Six Sigma theories, principles and techniques to start making dramatic improvements in your daily responsibilities and tasks, providing your employer with fewer errors, greater efficiency, better profitability and streamlined processes. It really is that simple.
What Course Is Right for Me?
If you're considering Six Sigma certification in Wichita, or your employer is considering sponsoring your training, you'll need to know which course is right for you. Here's a quick breakdown:
White and Yellow Belts – Both white and yellow belt courses are essentially introductions to the world of Six Sigma. Those earning Six Sigma certification in Wichita through either of these courses will be familiar with the processes, techniques and tools used for process improvement.
Green Belts – Six Sigma Green belt programs give you more practical education in the world of Six Sigma, and prepare you to be part of a process improvement team, or even to become a team leader if you prefer.
Six Sigma Black Belt and Six Sigma Master Black Belts – Black and master black belt programs are designed for those who want Six Sigma certification in Wichita that enables them to take a higher-level management and planning position.
With Six Sigma certification, you can help your organization grow and prosper, and you'll proper right along with your employer. Sign up Six Sigma Wichita Certification
Live Classroom Training
Onsite Classroom Training
Online Self Paced
Online Instructor Led
Blended Training