6Sigma.us is approved through March 31, 2017 as an Authorized Provider by the International Association for Continuing Education and Training (IACET®), 8405 Greensboro Drive, Suite 800, McLean, VA 22102.
IACET and CEU accreditation for both live six sigma training and online training.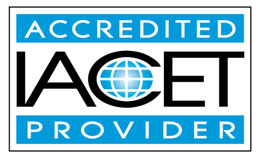 In obtaining this approval, 6Sigma.us has demonstrated that it complies with the ANSI®/IACET® Standards, which are widely recognized as standards of good practice internationally. As a result of their Authorized Provider membership status, 6Sigma.us is authorized to offer CEUs for its programs that qualify under the ANSI®/IACET® Standards. CEUs can be used for maintenance of professional affiliation with an institution or professional advancement in organizations. Below is a brief description (authored by IACET®) of the purpose, definition, and ownership of the CEU, the Authorized Provider program of IACET®, and the requirements of IACET® to become an Authorized Provider of IACET® CEUs. Additional information may be found at IACET®'s website at www.iacet.org.
CEUs in Detail
Purpose of the CEU
· Provide a standard unit of measure
· Quantify continuing adult education and training activities
· Accommodate for the diversity of providers, activities, and purposes in adult education.
Definition
One CEU = ten contact hours of participation in an organized continuing education experience, under responsible, qualified direction and instruction.
Ownership
The International Association for Continuing Education and Training (IACET®) is the caretaker of the CEU. IACET® assumes responsibility for refining and disseminating information about the CEU. Through its programs, publications, research, and technical assistance, the Association assists organizations in correctly utilizing the criteria.Only Authorized Providers may use the IACET® CEU logo. The traditional CEU is in the public domain and many organizations use the term, but may not be following the IACET® Criteria. Some consumers distrust the value of the CEU for this reason. Consumers trust the IACET® Authorized Provider's use of the CEU because they know that they have been reviewed and site visited to become an Authorized Provider and that they must follow the IACET® CEU Criteria.
Authorized
Providers
To ensure quality in continuing education and training programs and to increase the consumer's confidence in those organizations, which adhere to the standards, IACET® established the Authorized Provider program. This program provides recognition for providers who would adhere to the criteria and are willing to have their programs assessed by the Authorized Providers Commission
IACET® CEU
To distinguish between the generic CEU and the CEU granted by IACET® Authorized Providers, the Association restricts the use of its IACET® CEU logos to providers, which are certified as "Authorized Providers" by IACET®.
6Sigma.us is also approved to offer Project Management PDU credits for the Project Management Institute (PMI®*).
6Sigma.us has been reviewed and approved as a provider of project management training by the Project Management Institute (PMI®*).

We are authorized to display the PMI R.E.P.®* logo prominently on our website. This label guarantees 6Sigma.us courses satisfy PMI quality assurance criteria.Contact Hours PMI Accreditation Courses offered by PMI®* Registered Education Providers (R.E.P.s®*) are automatically approved for Contact Hours in fulfillment of PMP®* requirements.

Click Here for PMI Info
(*PMI and the PMI Registered Education Provider logo are registered marks of the Project Management Institute, Inc.)
Save