The Six Sigma process improvement methodology demonstrates the critical importance of properly collecting and analyzing data.
From its roots in the manufacturing environment, the power of Six Sigma has found its way into virtually all areas of business – regardless of product, service, industry, or profession. Companies everywhere are recognizing that they can save money using Six Sigma, but don't learn statistics learn Minitab and read our book about Applying Six Sigma Using Minitab.
Wondering what is Minitab? Minitab is statistical software, which has been used since the 1970s, has consistently proven to be effective in analyzing data in the context of Six Sigma methodology. Filled with figures and written in easy-to-understand language, this manual will help you:
use Minitab's functions to follow the DMAIC (Define, Measure, Analyze, Improve, Control) roadmap;
minimize the use of equations in explanations of data analysis;
maximize your understanding of Minitab's data analysis outputs. There are different Minitab screens that are used to create graphs and perform data analysis, and you'll also learn how to create these graphs and enhance displays for presentation purposes.
Whether you're just learning Six Sigma or need a refresher course, Applying Six Sigma Using Minitab is a reference you'll use time and again to complete projects, save money, and accomplish your goals. We also offer a Minitab Essentials Training program for beginners.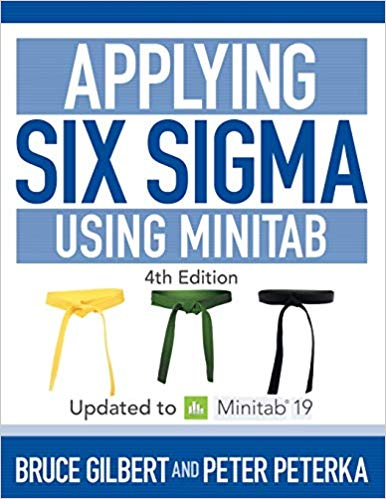 If you have purchased the book and need the datafiles please send an email to minitab@dmaic.us and you will receive zip file of all the datafiles used in the book.
Save
Save
Save
Save
Save
Save