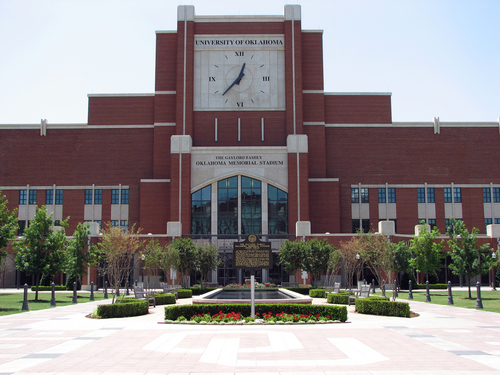 Norman, the third largest city in Oklahoma, is one of the state's leaders in technology and scientific research. Because of the University of Oklahoma, the National Weather Center, the Oklahoma Geological Survey, and other organizations, many of the state's best and brightest call Norman home.
Many of the recent graduates of University of Oklahoma are looking for new ways to stand out from the crowd. In recent years, a bachelor's degree has been less valuable than in the past, and businesses are looking for candidates who also have relevant experience or job ready skills. One of the best ways for local job seekers to get the skills that businesses are looking for is by getting Six Sigma training in Norman.
Currently there is no training schedule available for Norman. However, we do have ongoing training in nearby locations. Check out available training in nearby location
Many organizations across Norman already use Six Sigma to increase efficiency and improve their service including the University of Oklahoma. For new graduates and new businesses that are in need of critical analytic skills, they should follow the example of some of Norman's top employers such as Johnson Controls, Hitachi, Albon Engineering, and AT&T—all of whom have implemented Six Sigma methodologies. If you are looking for skills to help get you hired or are a business that is trying to improve its processes, Six Sigma training in Norman might be exactly what you're looking for.
Why Do Businesses Value Six Sigma Training?
Six Sigma is a highly effective approach to process improvement that uses statistical tools and analysis. Businesses are looking for individuals with these skills because they can help the business cut costs and improve products and services.
Individuals trained in Six Sigma have a strong background in statistics and can use these skills to measure the efficiency of business processes. Six Sigma Green Belts and Black Belts ordinarily complete projects that save companies hundreds of thousands of dollars in recovered time and resources. Sometimes these are simple efficiency upgrades, but the Six Sigma methodology allows individuals to continuously and quickly find the solutions to operational waste and inefficiency.
Where Can I Find Six Sigma Training in Norman Oklahoma?
If you are located in Norman, there are several providers who do Six Sigma training. Many of these programs are offered online, in classrooms, and onsite. Businesses and individuals should both do research before selecting a provider because there is no accrediting body for Six Sigma. Getting recommendations from successful local businesses can help you find what organizations deliver the best training.
Live Classroom Training
Onsite Classroom Training
Online Self Paced
Online Instructor Led
Blended Training