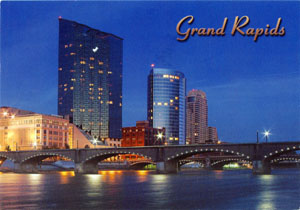 Grand Rapids has always been very well renowned for the high quality furniture which the city has produced. Companies like Herman Miller, American Seating, and Haworth among others have long been based in the city, and till today produce high quality furniture that adorns offices not only right around the country but indeed right around the world. Now, as in the case of a lot of other manufacturing industries, the furniture industry too has faced stiff competition from the likes of China which have managed to produce high quality furniture at much lower costs as compared to the US. Naturally, there has been an urgent need to spruce up manufacturing processes where costs can be curtailed down to the barest minimum without compromising on quality. Of course this is much easier said than done but we have to say that six sigma has gone on to make a very big difference. In particular, we see that six sigma training in Grand Rapids has brought about a change in attitude among furniture manufacturers which was clearly not there before. Now they do not take anything for granted, especially their own competitive edge assuming that demand will always be there, whatever the quality or the price. Instead, they constantly strive for better quality of output at low costs which keeps customers happy and wanting the items they produce, instead of looking elsewhere.
Currently there is no training schedule available for Grand Rapids. However, we do have ongoing training in nearby locations. Check out available training in nearby location
Is quality being compromised?
This is a common query that we get  perhaps quality being compromised. But that really cannot be the case, after all, remember that quality consciousness is at the very heart of six sigma, so compromising on quality simply cannot be a possibility at all. Instead, it is all about efficiency, which has been scaled up to all new heights.
Then it is also about minimizing wastage of resources, be it of raw material, personnel, time, or any other such resource. This learning has particularly come from the onset of lean six sigma training which promulgates a strict regimen of making the most of available resources, while avoiding wastage at all costs. Of course this learning has not come too easy to the furniture players in Grand Rapids but as we can confirm, over time, they have learnt the ropes of making the most of existing resources without wasting them.
A Bright future ahead
It is in this context that we can affirm the bright future of the furniture industry in Grand Rapids. As it is, the American economy is showing strong signs of a rebound. As a result there are many businesses springing up, all of which would need quality furniture for their offices. Armed with learning as gained from six sigma methodology, these furniture players are fully up the challenge to provide high quality furniture to patrons at the lowest costs possible, without compromising quality in anyway.
Live Classroom Training
Onsite Classroom Training
Online Self Paced
Online Instructor Led
Blended Training