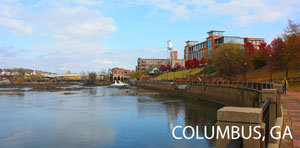 The biggest employer by far in the Columbus area is Fort Benning, with as many as 100,000+ folks depending on the US Army post directly or indirectly for employment. Naturally, efficiency and effectiveness is something which is keenly looked at as a part of the overall operations of the post.
It is in this context that six sigma training in Columbus really came to the fore at Fort Benning since it could be deployed as a technique to ensure maximal efficiency and effectiveness of overall operations. After all, if you look at any army deployment, it is funded by tax payer money. Therefore it is very important that resources are deployed in the most effective manner, keeping wastage down to the barest level possible, and ideally, avoiding it altogether. In any case, if you look at army posts as large as Fort Benning, the resources being deployed are themselves so extensive – think of all the food that needs to be prepared, think of all accommodation arrangements that need to be made for all the personnel stationed there, think about all the armaments and other equipment that they need for their day to day training the list simply goes on!
Currently there is no training schedule available for Columbus. However, we do have ongoing training in nearby locations. Check out available training in nearby location
In the case of Fort Benning, we see that six sigma training Columbus GA has certainly made a big difference. For instance, from the time this training has been rigorously deployed, expenses for day-to-day operations of the post have been curtailed significantly. Likewise, if we look at time and effort expended towards training of personnel it has been rationalized to the extent that without having to go overboard, there is still a constant supply of personnel who are well trained and capable of handling a variety of different combative and non-combative situations. Further, often there are situations where third party contractors for such US Army posts either tend to be more in number than is warranted, or tend to be inefficient in some way maybe charging more than warranted, or not offering the desired quality, and so on. Again, with the deployment of six sigma training Columbus GA, we find this phenomenon to have been curtailed significantly. Today, third party contractors / vendors at Fort Benning are some of the best that can be seen anywhere across such US Army posts, and they also happen to operate efficiently and effectively.
At 6Sigma.us we are of course very proud to be able to offer our services to the US Army in this way since we effectively contribute to the wellness of the entire nation. In any case, we have routinely offered our training services to various US Army / Defense establishments so Fort Benning with six sigma training Columbus GA really hasn't proven to be any different. Against that backdrop, we would also like to assert that no matter what background you may come from, including a non-defense one, six sigma training Columbus GA will definitely prove worth its while so do consider it for your professional benefit.
Live Classroom Training
Onsite Classroom Training
Online Self Paced
Online Instructor Led
Blended Training