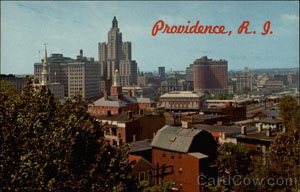 Sign up now!  
Six Sigma Certification In Providence
Providence, the capital of Rhode Island, is also the state's most populous city and the third largest in New England. With a history that goes all the way back to 1636, Providence is also one of the oldest cities in the entire country. Though it was one of the first cities to really embrace industrialization, today the top employers in Providence are Brown University, Rhode Island Hospital and Bank of America.
Six Sigma certification in Providence, Rhode Island is a great way for your company to join the ranks of these successful examples. Worldwide, Six Sigma has been a key component of some of the most successful corporations currently in business. The list includes 3M, Amazon.com and Ford. It also features Providence's own Bank of America.
Of course, Six Sigma began at a very successful company. In the mid-80s, though, Motorola faced a common problem: they weren't happy with their manufacturing practices. They thought their system was producing too many defects. The approach they took to solving this problem resulted in Six Sigma. Amongst other things, this quality control approach was aimed at keeping defects to no more than 3.4 per one million units.
It's Jack Welch whom many credit for really popularizing Six Sigma though and for good reason. He made it a central component of his strategy at GE, another hugely successful company. Since his decision in 1995, countless other companies have followed his move and been better for it.
Now, will Six Sigma certification in Providence, Rhode Island make your business a Fortune 500 company over night? Of course not. However, you stand a very good chance of seeing noticeable improvements in a very short period of time
With Six Sigma certification in Providence, Rhode Island, you and your staff will have the tools to take an objective view of the processes you regularly rely on. More than that, though, you'll also have the resources and confidence to address areas where those processes are falling short. Put simply, you can't afford to have regular features of your business underperforming. Too many businesses, though, simply "accept" that those issues are simply beyond their control. Nothing is perfect, after all.
Companies like the Vanguard Group, McKesson Corporation and Dell don't have that attitude though and because of Six Sigma they don't have to accept limitations. Earn your Six Sigma certification in Providence, Rhode Island today and you'll be on the path to limiting your company's losses and doubling down on its successes.
Live Classroom Training
Onsite Classroom Training
Online Self Paced
Online Instructor Led
Blended Training